WORDS BY ALISON JONES | JAN 17, 2019
Italian for 'iron way', a via ferrata is a series of iron rungs and wire cables that are affixed to a mountainside, providing a secure climbable route for those with little to no experience. It allows a person to navigate their way through otherwise impassable terrain.
Routes can include features such as taut wire bridges, bowed suspension bridges, varying lengths of ladders, as well as zip-lines across canyons and waterfalls that amp up the speed on an already thrilling journey.
Intrigued?
There's more…
Led by an ACMG certified Mountain Guide – and always secured by a safety cable – via ferratas are a remarkable way to experience the feeling of mountaineering with no expertise necessary. Those who are familiar with rock climbing are often surprised at their ability to cover such rugged terrain, and over such a large area in the environments in which we operate.
If you can hike and climb a ladder, you can via ferrata.
Here are six more useful (and pretty awesome) things to know about via ferratas.
1. You're always affixed to a safety cable
Alongside the iron rungs is a steel cable which runs the length of the via ferrata and is securely bolted into the solid rock at multiple points.
You are attached to this steel safety cable at all times, by not only one clip, but two. These two clips are securely attached to the snug rock-climbing harness that sits around your legs and waist that has been checked by your guide.
Glossary of equipment provided for the via ferrata:
1 x Climbing Harness: A sewn nylon webbing device worn around the waist and thighs that is designed to allow a person to safely suspend in the air.
2 x Carabiners: Pronounced kar-uh-bee-ner. These are metal rings with spring-loaded gates, used as connectors. Usually oval or roughly D shaped. Also known as crab or biner.
2 x Safety Lines: Sewn nylon webbing ropes secured through the front loop of a climbing harness, then attached to a safety line by two metal carabiners.
1 x Zip-Line Trolley: A device containing two or more pulley wheels that rides on top of a zip-line cable that carries a rider from one end of a zip line to the other.
1 x Helmet: A personal protective device to protect the wearer's head. Also known as a brain bucket or skid lid.
Packing for a CMH Summer Trip is easier than you think. Here are a few essentials you'll need >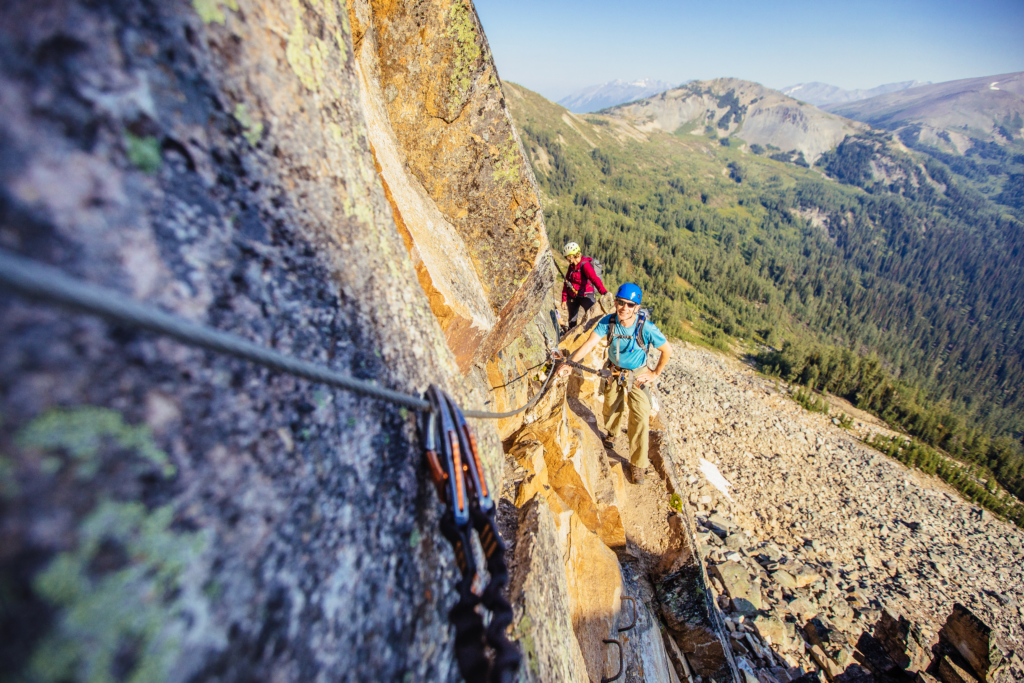 2. The steel cables are safe enough to hold 20,000lbs
Interestingly, the steel cables that you clip onto with your two safety lines can hold up to 20,000lbs (9,000kg). That's around the same as five Jeep Wrangler 4×4's.
3. You don't need any previous experience to via ferrata
No really, you don't.
They were originally invented to allow access across some of the most unrelenting landscapes in Europe (See fact #5 for more history), and as such, they're inherently designed for everyone from beginners to veteran climbers. Not only are they thrilling, but the summits they lead you to are nothing short of astounding.
Our via ferratas are located within the middle of true British Columbia wilderness; their start and end points are accessible only by helicopter, and they were created to be some of the most impressive in the world.
4. Via ferratas allow you to access some of the gnarliest terrain
We're talking peaks at 8,000ft (2,500m)
Plateaus overlooking enormous glaciers.
Zip-line switchbacks across roaring waterfalls and deep canyons.

Essentially, places that you wouldn't otherwise be able to access, let alone climb, without many years of mountaineering under your belt…and a helicopter.
5. They originated during WW1
The first via ferratas were forged in Italy during the First World War. They were created within the Dolomites to aid the movement of troops and equipment through the arduous mountain range.
As you can imagine, many of the troops did not have the skills to allow them to pass through the mountains. As such, the via ferratas not only provided the men and women with a means of navigating through the towering landscape (along with their gear) but to do so within a fraction of the time. Without the via ferratas, the outcome of the war within these regions could have been a lot different.
Now, there are over a thousand via ferrata within the European Alps, with more built every year around the rest of the world.
6. There are 4 via ferratas at CMH
Skyladder Via Ferrata
Location: CMH Bugaboos
Length: Half-Day
Key Features: If you're looking to wet your via ferrata feet, this is the perfect place to start. You'll navigate your way up and across a rock wall with a backdrop that is hard to turn away from. When you summit the top, you're rewarded with incredible glacier-capped mountains. From here you can choose to amble closer to the views or catch a heli back to the lodge >
Conrad Glacier Via Ferrata
Location: CMH Bobbie Burns
Length: Half-Day or Full-Day (You Decide)
Key Features: The Conrad Glacier via ferrata is entirely unique to the others. You'll follow an ancient path that was charted millennia ago by the rushing waters from the glacier above. You'll spend the day winding your way through vast canyons, over roaring waterfalls, and culminate by topping-out at a plateau overlooking the astounding mass of the ice. This is not to be missed >
Mt. Nimbus Via Ferrata
Location: CMH Bobbie Burns
Length: Half-Day or Full-Day (You Decide)
Key Features: Claiming the title as one of our most Instagrammed via ferratas, the Mt. Nimbus is known for its iconic suspension bridge, towering peaks, and for being the longest via ferrata in North America. If you're looking for 'brag-worthy', this is it >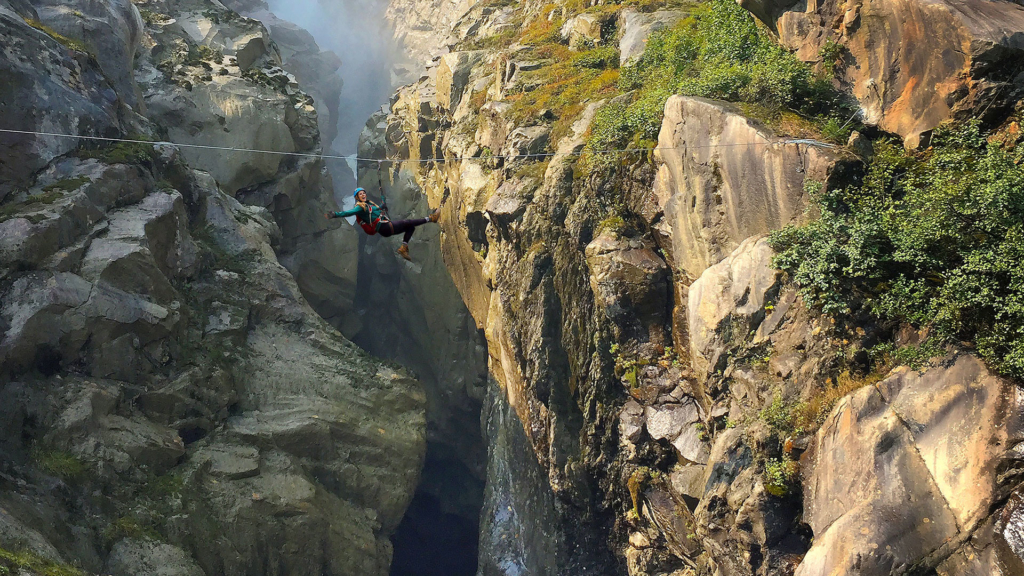 Zillmer Canyon Via Ferrata
Location: CMH Cariboos
Length: Half-Day (Full-Day Coming Soon)
Key Features: NEW. The Zillmer Canyon Via Ferrata is the cherry on top of an already delicious cake. Not only is its location jaw-dropping, but the route is like no other. You'll traverse across, through and up a deep, winding canyon, crossing bridges and zip lines as you ascend closer to the immense glacier above. See more >
---
Choose your own adventure while knowing that all paths lead back to a luxe lodge at the end of the day.