APRIL 1, 2020 | WORDS BY DAN KOSTRZEWSK
Let's be honest, we all enjoy a good cocktail. At après hour, few things taste sweeter than a well-mixed, well-crafted adult beverage.
Shaken, stirred or simply just poured over ice—we have faith that our perceptive CMH bartenders know what makes the perfect drink.
Yet, beyond just an extensive selection of local Canadian microbrews and deep wine cellars stocked with the deep wine cellars stocked with great examples of the Okanagan Valley's sub-appellations, CMH has made a recent push to elevate craft cocktail offerings for summer. Starting in 2016 we embarked on a spirited journey of creating a signature cocktail menu and began partnering local micro-distilleries—including Banff's Park Distillery and Canmore's Wild Life Distillery—born from a recent upsurge in Canadian micro-distilleries.
One of the driving forces behind the handcrafted menu was Rob Vinson, former CMH Bugaboos bartender who still contributes to our seasonal bartender training. Vinson learned his craft bartending in Copenhagen and Amsterdam during the modern resurgence of the craft cocktail movement. Back at CMH, Vinson created the first signature cocktail menu in 2016-17 and then partnered with Matt Hendrix of Park Distillery the next season, learning even more about crafting a cocktail menu.
Now, four seasons on, it's an entire team effort as the creativity of the seasonal cocktail menu is on par with the calibre of the other culinary offerings at our summer lodges.
The signature menu changes each season—with concoctions and contributions from multiple bartenders and spirit suppliers—but we surveyed our lodge managers for last summer's favourites then asked Vinson to tell us a bit behind the inspiration mixed into each one and his overall perspective on what makes a perfect summer CMH cocktail.
Here is your definitive list of CMH cocktails that you can make at home, at any time of the day – no judgement.
CMH Cocktails: Zilmer Zip
The grapefruit essence of this vacation-themed cocktail perfectly mixes both vodka and tequila—summer's two best spirits. Named after the brand new via ferrata in the Cariboos, this cocktail definitely has a kick but last season's favourite fits Vinson's overall impression of what a summer cocktail should be.
"If someone was asking for a drink and they say, 'I don't like gin' or 'I don't like tequila', I want to actually make a drink with that spirit and see if I can change their mind," says Vinson. "In summer, I like a nice bright summery fresh drink, herbal—anything with mint is really good. Citrusy and floral are two of the big key things I want to hit in the summer cocktail. Anything with sparkling wine or just a little bit of soda water makes it a little bit more effervescent. That's what I like in a summer drink. "
What you will need
1oz grapefruit vodka
1 oz St. Germain Elderflower
0.5 oz 1800 Tequila
2oz Grapefruit Juice
0.5 oz lime juice
Instructions
Combine all ingredients in a cocktail shaker
Then fill the shaker with ice, cap and shake for 8 seconds
Fill a large lowball glass ice rocks
Using a strainer, pour the cocktail into your glass
Garnish with a lime wedge and serve!
CMH Cocktails: Bell 47
When Vinson trains bartenders he educates them on the importance of balance between sweetness and bitterness. To him, that balance is as important as the difference between a stirred and shaken drink. The Bell 47 is one of his recipes that maintains that even keel.
"St. Germain elderflower liqueur is referred to as bartender's ketchup because you can put it in anything and it makes it taste good," Vinson relays. "The first tendency is to use vodka or gin, but I cut myself off and said 'let's try something different'. So I went with rye because rye is generally a drier whiskey and to balance with the sweetness of the elderflower liqueur because it's quite sweet. That balances itself out a little bit, and is a little bit more complex."
"Rye is kind of oakey and kind of spicy, and then more balanced out with a drier maraschino liqueur from Luxardo," he continues. "And then, again, balanced on the other end from Angostura Bitters, which give a really aromatic bitters kind of flavour."
What you will need
1.5oz Bulliet Rye Whiskey
0.5oz St. Germain Elderflower
0.5oz Luxardo Maraschino
4 dashes of Angostura Bitters
Instructions
In a mixing glass, combine all the ingredients with ice
Stir for about 8 seconds and taste. You should be able to feel a slight burn on the back of your tongue, but a smooth flavour and feel overall – then you've got it just right!
Strain the drink into a lowball glass. We recommend no ice.
For an extra finish, hold an orange over the glass while you carve off a small garnish. This allows for some citrus zing in the drink.
Add the garnish, serve, sip and enjoy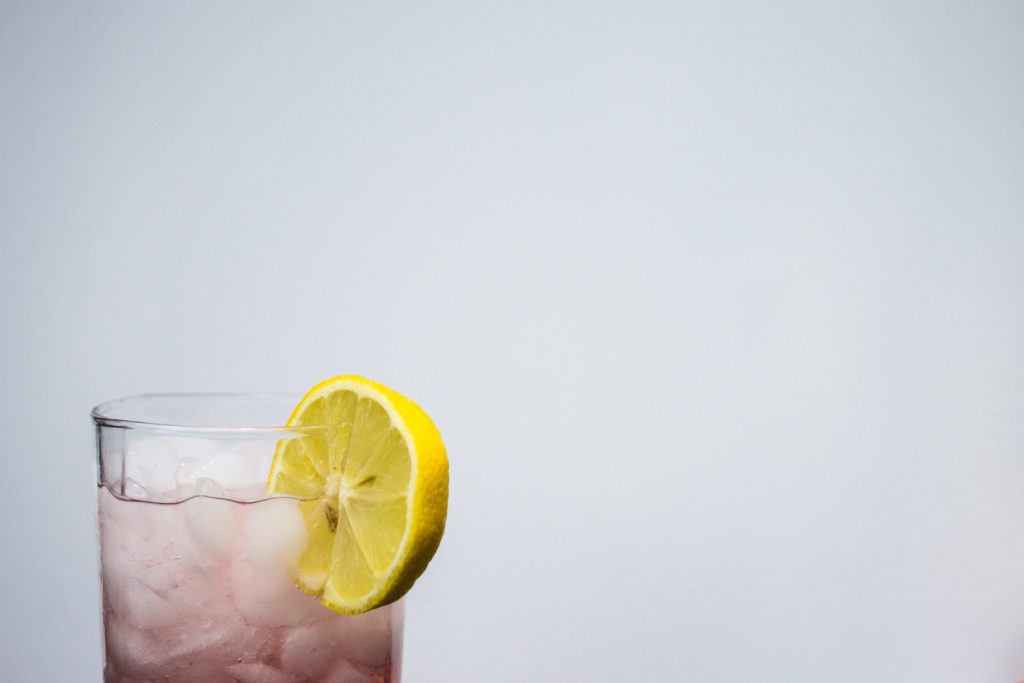 CMH Cocktails: Alpenglow
Wine isn't the only alcoholic beverage they make in the Okanagan Valley and Oliver B.C.'s Dubh Glass Distillery has gained recent notoriety for their Noteworthy Gin. Vinson's Alpenglow creation adds Aperol, cassis and lemon for a balanced gin drink that takes it up a notch from the old school g-and-t standby.
"We brought in Noteworthy Gin from Oliver, which is a really citrusy, but very floral, stilled gin. I wanted to do something with that spirit so we paired it with Aperol, which is very citrusy floral and a little bit sweet and bitter, and with some lemon juice and crème de cassis then a little bit of soda on the bottom," Vinson explains. "I'm a big fan of Aperol. Every time I see Aperol on a cocktail menu I'm usually steering towards that or something with Fernet."
What you will need
1oz Noteworthy Gin
0.5oz Cassis Liqueur
0.5oz Aperol
0.5oz lemon juice
Topped with soda
Instructions
Grab a cocktail shaker and add all the ingredients except the soda
Add some ice, cap the top and give it a shake for 8 seconds
Strain the mix into a glass with ice rocks
Hold an orange over your glass and slice off a small garnish while allowing any zest and oils to fall into the glass for added flavour
Drop the peel into the drink and serve
CMH Cocktails: Classic Caesar
It's not officially the national drink of Canada but no north-of-the-49th bar menu is complete without a signature Caesar. While most visitors from The States would rarely order up this specialty outside of brunch, CMH's Caesar drinks lighter than an American Bloody Mary and pairs perfectly to après hour and appetizer fare. Our signature version takes the national standby up a notch in sophistication with Park Distillery's Bird's Eye Chili Vodka, which is also the foundation for our staff favourite The Sawback.
"We use part chilli vodka in our Caesar, which is nice because it's already spiced so we don't put any Tabasco® in it, so it's a lot faster to make, too. Park took a long time to figure out which chilli they wanted in their vodka and it matched really well," Vinson explains.
What you will need
1oz Park's Birds Eye Chili Vodka
3 dashes of Worcestershire Sauce
Topped off with Clamato Juice
Instructions
Wet the top of a tall glass and rim with celery salt
Fill the glass with ice and combine all the ingredients
Give it a good stir, add a spicy bean or an olive for a little something extra
Drink up
CMH Cocktails: Park's, The Sawback
"We partnered with Park Distillery for the second year of our signature cocktail menu. Matt Hendricks, the master distiller, and I created the second year menu together and we brought in a couple of their cocktails," he continues. "The Sawback is from Park and it's wicked—– that's really very popular among our staff and guests."
What you will need
1.5oz Park Chili Vodka
0.5oz Cointreau
2.5oz pineapple juice
1oz lime juice
0.75oz simple syrup
Instructions
Combine all ingredients into a cocktail shaker and go to town
Once thoroughly mixed, strain the drink into a glass
Garnish with a pineapple wedge
That's it
Insider Tips
Best Ingredient in a Cocktail
"When I train bartenders, I ask them what's the most important ingredient in a drink. A lot of them say 'the glass', 'the ice', 'the alcohol', but it's the bartender that actually cares," Vinson says. "A lot of people ask me like what's your favourite drink to serve, but the way I see it, it's exactly what the guests like. So it's all about talking to the guests and seeing what kind of makes them turn."
Best Reason for a Cocktail
"If you sit on the deck on the Bugaboos, it feels surreal because you see these giant spires way down in the valley in front of you, and just sitting in the sun, hanging out with some people that you just met," Vinson reflects. "You're sitting in this amazing place you probably thought you'd never be—having a nice fresh cocktail in the Adirondack chairs on the balcony, looking at the spires or the view at whatever lodge you're staying at. But again, I think the best part of it is sharing the time with people and sharing a drink."

---