March 2, 2021 | Words by Kelsey Verboom
April is when glacier heli-skiing and high alpine terrain are at their finest. If you dream of cruising down rolling, wide-open slopes with plentiful snow coverage, consider this time of year your perfect match.
An entire season's snowpack
In April, the weather settles into longer days where it's still winter up high but pleasantly warmer down low. The snowpack that's been building all season means there's a wide variety of terrain available to explore, and extended daylight hours result in an extra hour or so of ski time. More time for heli-skiing? Yes, please!
14 PHOTOS THAT WILL MAKE YOU WANT TO GO HELI-SKIING IN APRIL >
CMH destinations receive an overall average of 170 cm (66 inches) of snowfall in April. With several months of snowfall already on the books, April boasts an impressive base of around 320 cm (125 inches). The hefty snowpack means guides have their pick of terrain to choose from, and accessing classic, high alpine runs is highly likely.
Temperatures up high hover around -5 degrees Celsius (23 degrees Fahrenheit), maintaining prime conditions, while down lower at the lodges, you'll likely be able to shed some layers and bask in the sun on the deck with a post-ski beverage. April apres is the time to perfect an envy-inducing goggle tan and flash your T-shirt arms for the first time in months.
Unexpected perks
Waiting until later in the season to book your dream trip means that you've had extra time to prepare your glutes and quads for the physical challenge of making postcard-worthy turns late into the afternoon. Hone your ski muscle memory at your local hill early in the season, so by the time you heli-ski in April you'll be ready to crush your trip.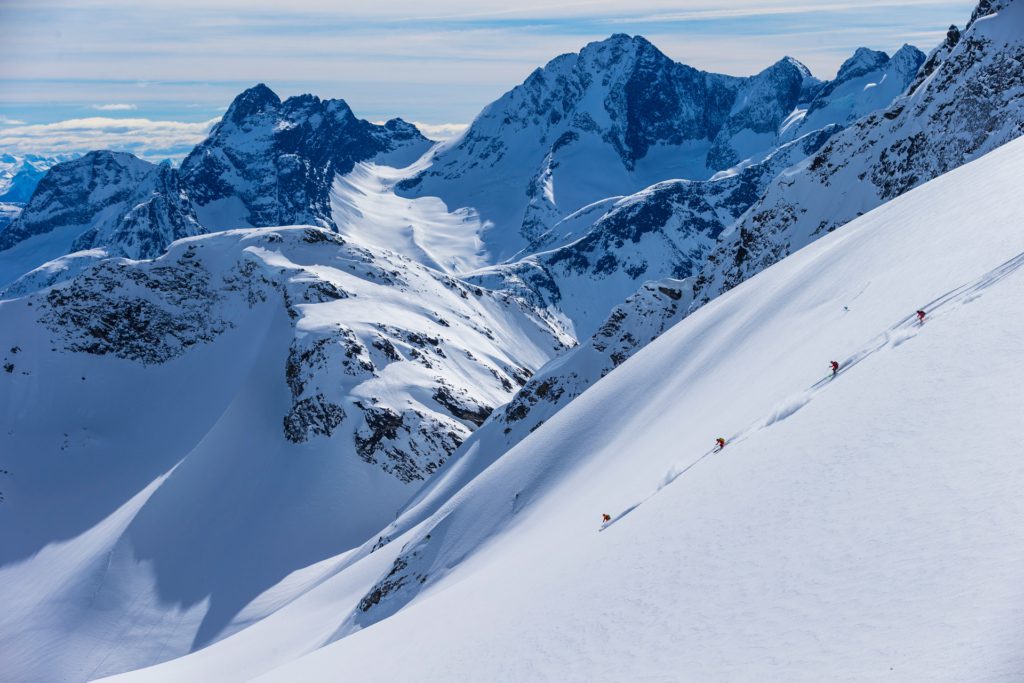 On top of that, April typically has more booking availability compared to Dec-March trips. As a result, April trips tend to be offered at a lower price point. To be certain, this booking trend isn't because the skiing is any less epic; it seems to occur because summer sports like golf are already gearing up, and people's attention is split. So, with more booking options and a lower cost, April is the perfect option for those wanting to visit CMH for the first time, or for those wanting to expand their heli-trip repertoire.
Your turn
The still-winter conditions up high paired with deck-ready weather down lower at the lodges means April offers the best of both worlds. Make picture-perfect alpine turns until your legs are weary, and rejuvenate in a deck chair, hot tub or relaxing massage afterward.